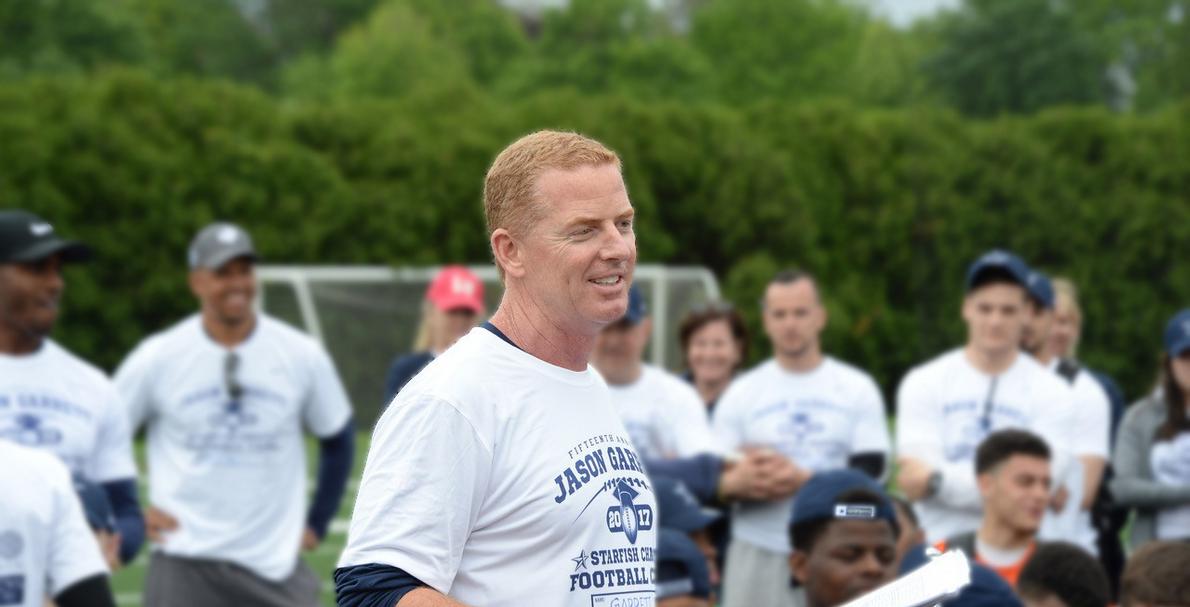 21st Annual Jason Garrett Starfish Charities​ Football Camp
Jason Garrett, through Jason Garrett Starfish Charities, has teamed with AthLife Foundation to host a 1-day free, non-contact football camp at Princeton University. Area high school student-athletes from New Jersey, New York, Connecticut, and Pennsylvania are coached by Jason Garrett, current and former NFL players and coaches, and college and area high school coaches. There are on-field practices and games as well as a life-skills component that emphasizes the importance of making good choices both on and off the field.​
​
​​Camp will be held on:
Saturday, June 17, 2023 (Schedule)
9:30 a.m. – 5:00 p.m.
Princeton University
Princeton, NJ
Jason Garrett Starfish Charities and AthLife Foundation teach the campers both football and life skills that will prepare them for the next season and beyond. The purpose of the day is to inspire the student-athletes to excel on and off the field and to focus on having college on their radar screen.

Jason Garrett Starfish Charities is a non-profit 501(c)(3) charitable foundation whose mission is to strive to make our community a better place by enriching the lives of its youths.

The AthLife Foundation's charitable mission is fueled by an unwavering belief in human potential. Its national platform works to ensure that thousands of deserving kids from challenged communities can achieve academically and compete successfully in their future careers beyond sport.​
Leadership Forum
The Leadership Forum dinner occurs the night before the camp at The Nassau Inn in Princeton and is one of the highlights of the entire weekend. All of the volunteer coaches and staff from around the country gather for a delicious meal, some camaraderie and a lively discussion on leadership.

Guest speakers at the Forum come from all walks of life and have included such luminaries as Olympian Jackie Joyner-Kersee, Admiral William McRaven, legendary Princeton Basketball coach Pete Carril, NY Times columnist David Brooks, NBC's Dick Ebersol and Fred Gaudelli, Highland Park United Methodist Church pastor Mark Craig and many more.

We have also had many legends from the world of football take part including Dallas Cowboys greats Troy Aikman, Tony Romo, Dak Prescott, Michael Irvin, Dez Bryant, DeMarco Murray, Demarcus Ware, Sean Lee, Byron Jones, Brad Johnson as well as New York Giants greats Michael Strahan, Joe Jurevicius, Tiki Barber, Greg Comella, Daniel Jones, Saquon Barkley, Kyle Rudolph and many others.

The Make A Difference Challenge Scholarship winners also attend the dinner and make a presentation on their proposal to address and solve an issue in their community. ​

Event will be on:
Friday, June 16, 2023
7:30 p.m. – 10:30 p.m.
Nassau Inn, Palmer Square
Princeton, NJ